What is the average cost of AC repair service and how often does Air Conditioner need a service?
April 30, 2019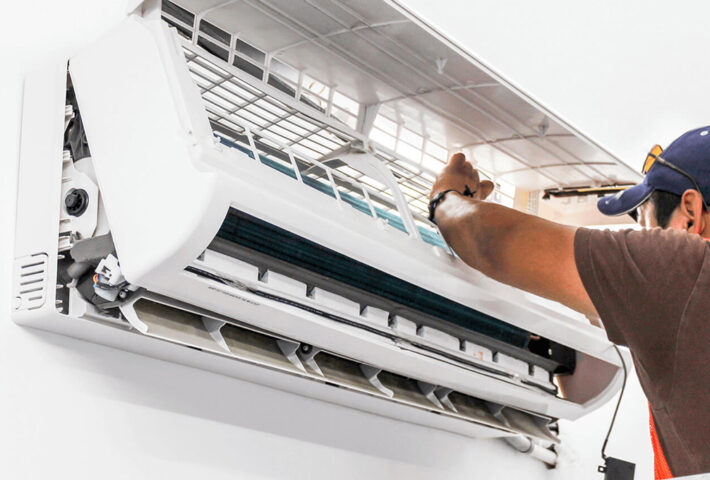 When your air conditioner or another HVAC service is not working appropriately, you are going to need to call an affordable AC repair company for a technician to look at it and fix issues. Clearly, during hot summer or cold winter, you need the best repair service instantly, there is no time to wait. Best repair and maintenance service costs some amount. The average AC repair cost changes depending on many factors. Also, you need to have a piece of information about how often does your air conditioner need a repair service. Knowing that unsolved problems create additional and more considerable damage to your heating, ventilating, and air conditioning equipment, it is better to research and find the best repair service company with the affordable average AC repair cost.
Besides these, any issue in your air conditioning unit may cause to let dangerous, hazardous chemicals spread into your house, and negatively affect electric consumption and bills.
What is the average cost of air conditioner repair service?
Depending on some factors price level of repair per unit for your air conditioning ranges between 40 and 250 US dollars. Primary factors include what kind of repair service you need, electrical, cleaning, and so on. You can find these factors below. Beside below-mentioned factors, additional spare parts may be necessary to fix your broken air conditioner. If a technician brings and set these new parts into the air conditioner, you have to pay their amount, so average AC repair cost for a unit of your HVAC system may increase. For example, to fix a refrigerant leakage may cost between 200 and 1500 US dollar in all areas of the United States.
The circuit breaks and current problems, as well as, fuses are considered smaller issues, and the cost of them goes between 50 and 200 US dollars. Maybe your thermostat is broken, and new thermostat will cost you 80 to 300 US dollars depending on brand, size, and type of your heating, ventilating, and air conditioning system. When you phone a technician, possible he or she says you an estimated amount of repair before he or she comes for repairment. A complete inspection of the heating, ventilating, and air conditioning system can cost 210 to 250 US dollars. It is also a tip that, by technician works, ask him to explain the working principle and the problem of your air conditioner to understand real average AC repair cost, and have a little knowledge about it.
How often does air conditioner need a repair service?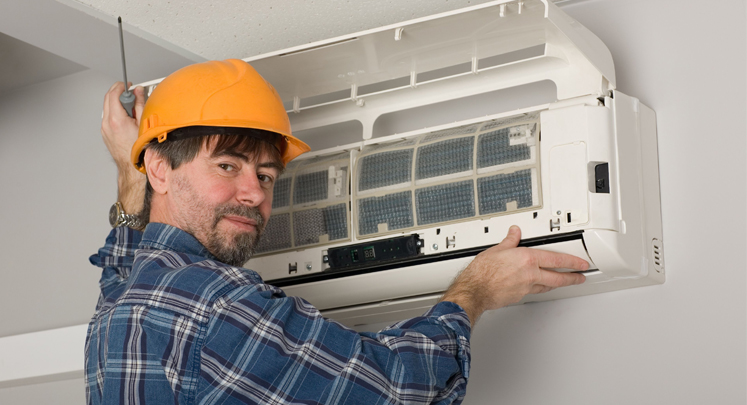 Many residents do not have enough information about their air conditioner. Even who follows popular do it yourself trend, finds it difficult to repair damaged air conditioner, and do not risk to go beyond small problems. Handling with a broken air conditioning system when you have no experience may cause more damage to equipment, an in the worst case it can lead to potential harm to yourself. That is why it is essential and better to forget these kinds of problems up to the pros. In addition to having the knowledge and tools to repair your solutions, and leave them an expert technician.
Because they are familiar with the latest products and newest technology, it will be easy for them to find a solution to issue, and fix it. It is easy to understand that a well-installed, and maintenance rules obeyed air conditioning systems do not require too much servicing and repair. They are also last much longer. Of course, you can call a technician for frequent maintenance and check-ups of the total air conditioning system to be sure about the safety and prevent additional energy consumption that may arise from dysfunction of your HVAC unit.
Also, air filter replacements may often be necessary to change. In case you hire the same technician for check-ups, and in any potential damages for repair, the technician may offer a discount or a yearly cost rate that contains bonuses such as three or four pre-paid maintenance visits at a low price. You should be careful with the refrigerant leak which is quite risky and can cause further injuries.
What are the factors that affect the price of the repair service?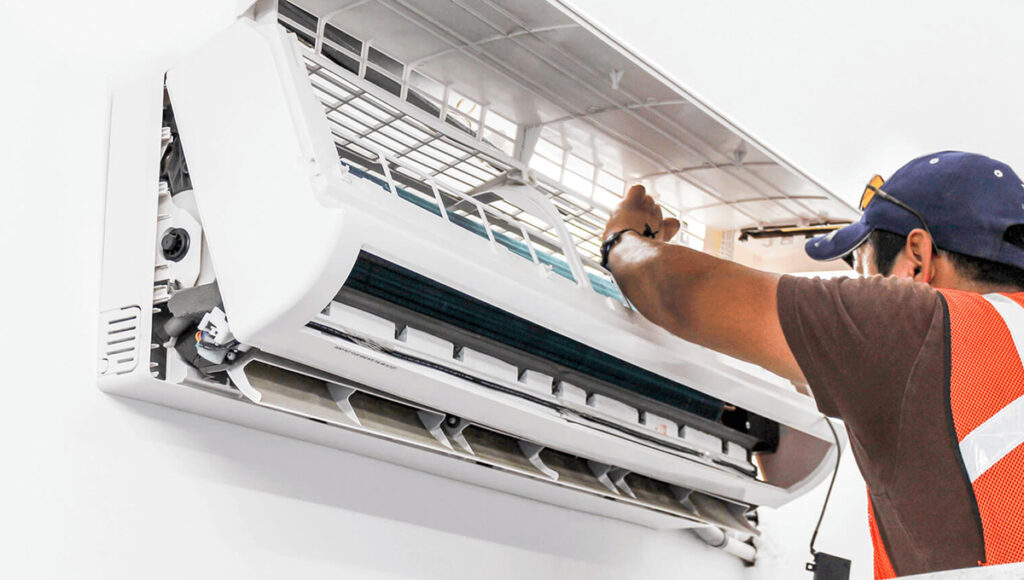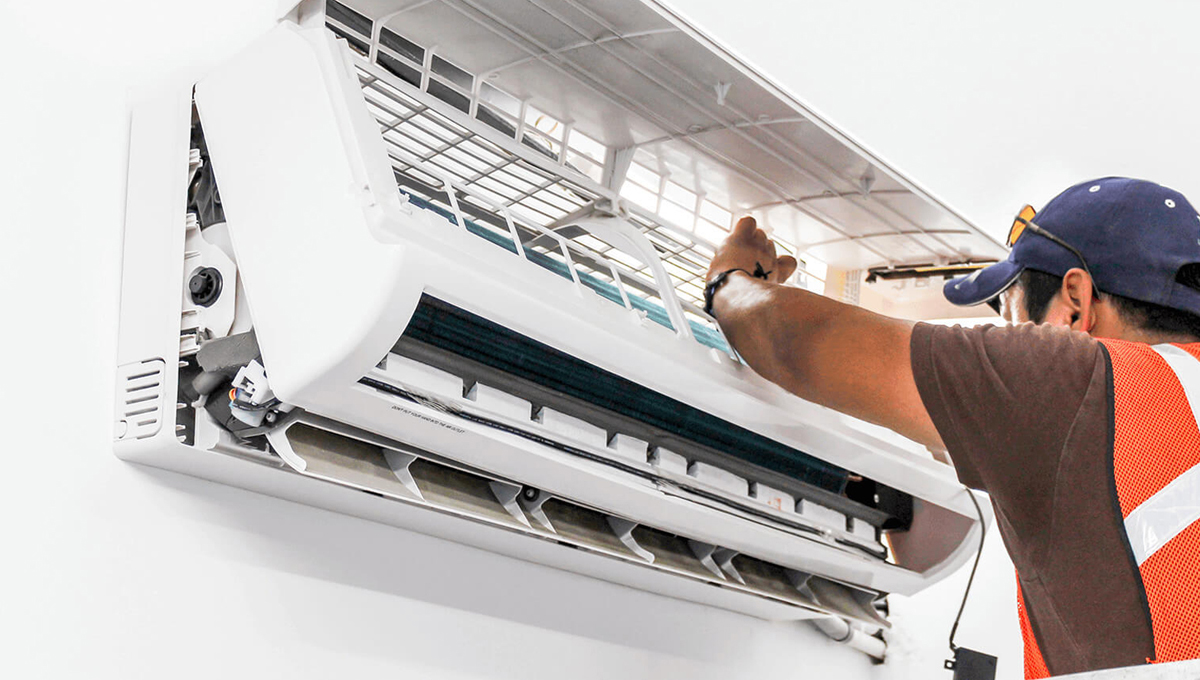 Significant factors that affect the average AC repair cost are the following:
Flat rate. The technicians of some repair, installation, and

maintenance service

providing companies charge fees depending on the area of flat, and kind of your heating, ventilating, and air conditioning device. It is evident that the areal size of your apartment determines the size of your air conditioner as well. That kind of price imposing repair servants states the repair expense per unit of air conditioner after they are coming to your house because they need to see and decide the price of service.

Expert level of the technician. It is possible that you would encounter a more experienced and expertized technician with high-quality skills who requires more amount of money than the affordable average AC repair cost. But, you should keep it into mind that professional and top-rated service companies do not work with such kind of technicians for air conditioning repair.

Duration. Some repair servants demand money for each hour they spend to fix your collapsed air conditioner. Some customers consider that option unfair because it is possible to face a time-consuming worker. Expenses of hour-based pricing vary between approximately 10 to 50 US dollars per hour.

Date and time. Holidays, weekends, and other special days are times that all people want to have a rest. Repair service technicians also include them. Late afternoons, nights, and early mornings are also the worst times of a day to make a phone call for repair service. You may be charged an additional amount of money in case you think they have to be available from dusk till dawn. You should take it into account that most service companies have fixed working hours for their staff, however, the best service companies attempts to be accessible 24 hours a day, and seven days in a week.

Necessary service. You may need a cleaning service for the clogged tubes of your air conditioner, or some electrical problems may arise. In all cases, a technician will conduct an overall diagnosis and check all parts to ensure safety, and provide excellent operational performance.

Plans of repair service company and the manufacturer of the air conditioner system have also impact on unit repairment and maintenance cost of the air conditioner. Professional repair service providers offer individual repair plans and costs to whom uses the air conditioner of which company has good corporative relations with them. Due to their interrelations, technician of repair service company may offer you a unique offer.

Warranty and insurance. Back up options of your air conditioner's producer may release additional costs off you, such as additional costs for spare parts. The insured air conditioner as the property has a different repair cost based on the source of the damage or a problem.
Conclusion
In the end, it is worth to say that it is so crucial to maintain the high operational performance of your air conditioner by obeying ist instructions properly. By doing so, you can save your money flowing out for electric bills, and you can reduce the average AC repair cost.